A Third Generation CGS customer
Luke Findley's grandfather Bill started with CGS when they first opened in 1979 and the company has been the family's main suppliers for the majority of the past 40 years.
Located west of Wee Waa, the Findley's have been in the Namoi Valley since 1962. Luke says today the main crops they grow are cotton and corn, with pulses, grain crops and "anything else that we can turn a profit on". He says in terms of why the partnership has endured, he says, "First of all, and this is the easy part, when you call, they answer and deliver.
"The second part is a willingness to go on the journey with the farmer and continually help them achieve their goals: if there's a will there's a way. While CGS offers the reliable, transparent delivery of product which is the basis of such a business, delivering chemical is the least important service they provide, as there are many suppliers out there who can get chemical, put it in a truck, deliver it and send you an invoice at a fair and reasonable price - it is the extra services they provide".
"CGS see themselves as Cotton Growers SERVICES, and not just as a 'chemical company'. If you want to try something, let them know and they will make it happen. They are genuinely as interested in new ideas as I am and are always motivated to help. I mentioned growing garlic at one stage, and by the end of the day had contacts on garlic growers to meet, when to plant in our valley, and whether or not it would be viable. They also have the experience at their disposal, to go back through the past 40 years and re-look at previous ideas and theories. Sometimes looking back can be just as valuable as forward, and CGS have the people who have seen the development of the entire industry."
- Luke FindlEy, FindlEy Farms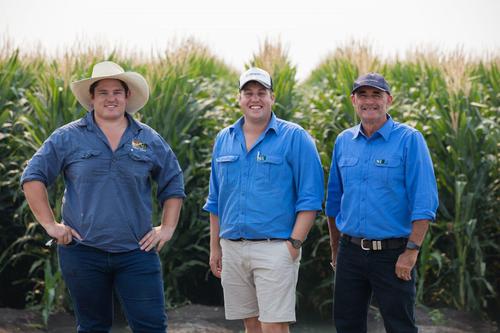 Luke FindlEy (FindlEy Farms), Simon Chorley; Wee Waa Branch Manager, Peter White; National Operations Manager